Hunt endless monsters
spearfishing in
Baja California, Mexico.
Spearfishing Baja Key facts
Price: From $475 (for entire Panga holding 3 divers)
Price includes: Boat, local skipper and guide (at cost)
Spearfishing Baja awesomeness: 5 star
Fixed dates or open: Open
Season: April 15th – November 15th
Group size: 3 hunters per 21ft Panga or Sport cruiser for larger groups
Charter Boats: A range of boats for all needs
Guide and instructor available: Yes, extra cost
Targets: Wahoo, Billfish, Bluefin Tuna, Yellowfin Tuna, Yellowtail, Groupers, Amberjacks, Roosterfish
Family friendly charters: Yes
Why go to Baja?
Welcome to Baja Mexico!
A 1220K long peninsula pressed between the warm waters of the Sea of Cortez and the cold, frigid ocean of the Pacific. Being as narrow as only 30k at parts, this strip of land gives unprecedented access to a wide variety of game fish.
Baja is a truly magical location, internationally known by few, spearfished by less. The nutrient-rich, warm waters mix with the cooler Pacific Ocean around the most southernly section to create a rich cocktail of marine biodiversity.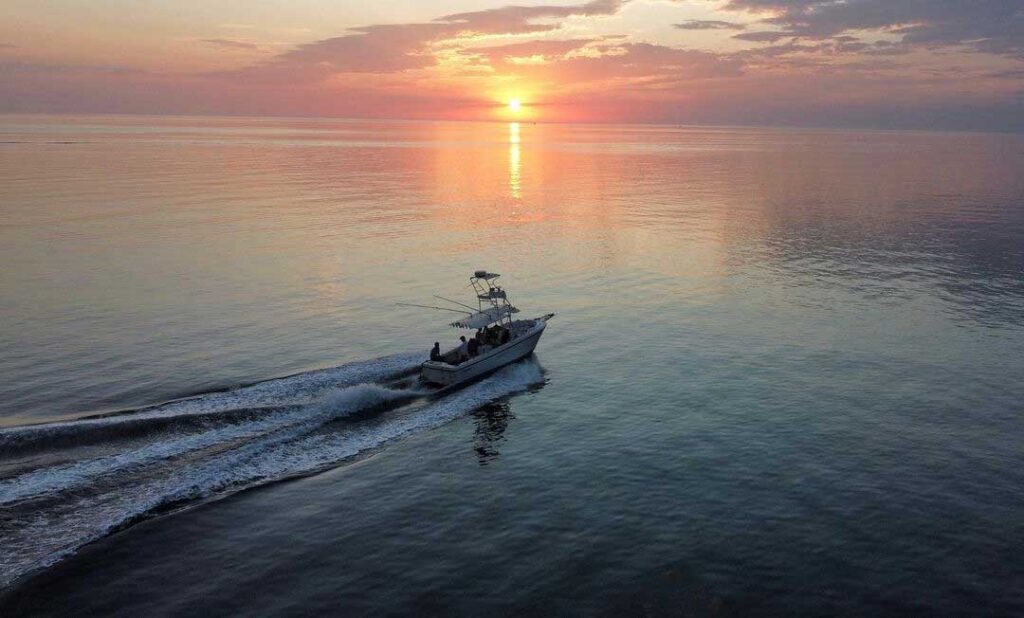 Baja seasons:
Baja is defined by just 2 seasons: the windy winter and the blazing hot, calmer summer.
Baja winter
The winter runs from mid-October to mid-April and is windy – very windy. So much so, it becomes a kiteboarding paradise, with tourists descending in their masses. The winter here is by no means cold and many Americans and Canadians come during this period to get away from the colder climates up north.
While the opportunities to spearfish during winter can be few and far between with the relentless trade winds, they can be incredibly rewarding when they present themselves. The colder waters of winter bring in the kingfish or yellowtail as they are commonly referred to locally. What's more, you can actually shore dive for these prized fish with many prime specimens being taken just meters from the shoreline. Obviously some spots are better than others and that's where the local knowledge comes in to play that you get with our spearfishing charters.
Baja summer:
However, when it comes to spearfishing and big game, summer is where it's at! The hordes of tourists migrate back to from whence they came, leaving this aquatic paradise to the hunters of fish. Just like someone switching off the A/C, the wind stops and everything gets hot. The water temp heats up to between 74 and 88 degrees, and the surface turns back to glass. The only caveat to this is the warm waters obviously being the prime ingredient for hurricanes. They are not particularly prevalent here but occasionally can throw a spanner into the works.
What species do we target when Spearfishing in Baja?
Wahoo:
If you know where to look, the Wahoo here are mind-blowing! They are thick in numbers and often just offshore.
If you want to chase wahoo, then this really is the place to be.
Ranging in size from 25 to 85lbs, we have also had a few monsters hitting triple digits.
The best place to find them is Los Barriles on the East cape. A super short boat ride on one of our Spearfishing Charters gets you in the thick of the action with very little interactions with sharks, creating a stress free and fun spearfishing environment.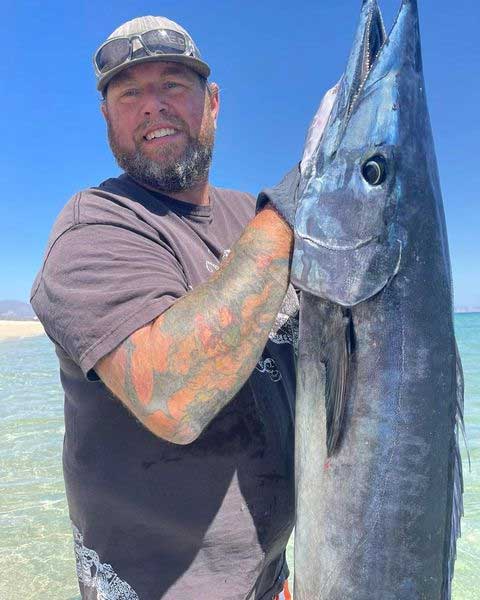 Hunting wahoo here really can be like living inside an episode of the Blue Planet. I personally have many memories of having Manta Rays (Mobula Munkiana) jumping 3 meters right behind me doing summersaults, hundreds of 15lb milkfish relaxing in front of me, a couple of ginormous Amberjacks cruising just out of reach along the sand ledge below and a patrol of Wahoo approaching from my side like fleet of U-Boats on an attack vector towards my flasher. Simply outstanding on so many levels.
Don't get me wrong, this is fishing and there are no guarantees – but after hunting Wahoo in many different places this is one of the most consistent locations we have found. If you are looking to tick off this incredible fish then make Los Barriles a serious consideration.
On a last odd note, the Wahoo here rarely take a lure so fishing for them is largely unproductive.
View our setup and hunting guide for Wahoo and other species here.
Billfish – Marlin & Sailfish: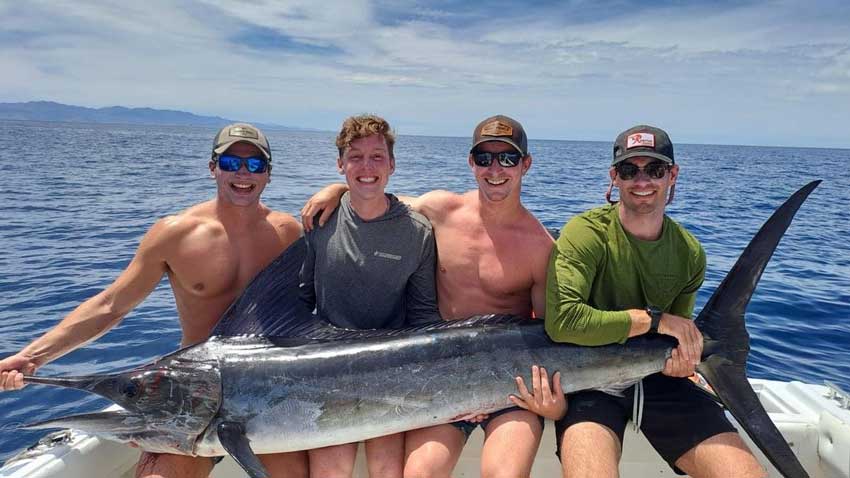 If you want to target this magnificent fish of a lifetime, Baja is one of the only locations where we can come close to guaranteeing it. Baja, specifically where the warm and cold waters mix, is home to a mind-blowing amount of marlin.
The much larger Blue Marlin are most common towards the end of the summer season around September, October and November and can be seen anywhere. Last season we had a 600-700lb unit come in on our flasher in only 18m of water.
The more common Striped Marlin are in these waters all year and are easily targeted with the right techniques. Their numbers here are staggering, with their weights ranging from 100 to 250lbs with the 125-150lb range being average.
There are 2 ways to target them here in Baja.
The most common is to entice them up from the depths by towing hookless teasers from the boat – they can't resist them. You sit geared up and ready to jump in at a moment's notice. When the Captain screams, you dive in on the fast moving shadows behind! The team throw flashers overboard while you get below the wake to see what's going on. You won't have long to identify your quarry and make your move. It's fast paced, heart in mouth stuff but if you want to target a Billfish, this is how you do it.
The other way here is chasing bait balls in the Pacific Ocean and jumping in on the feeding chaos. There are 2 to 3 months of the year where this is possible: October to December. We go to a very remote location about halfway up the peninsula where Marlin migrate on mass, giving an incredibly unique and unprecedented opportunity. This spot is also home to many other prize specimens like large Wahoo and man-sized Broomtail Grouper so we can tick off several lifetime goals at the same time.
While not under any threat, we limit one Billfish, per person, per trip; after which we switch to other awesome species.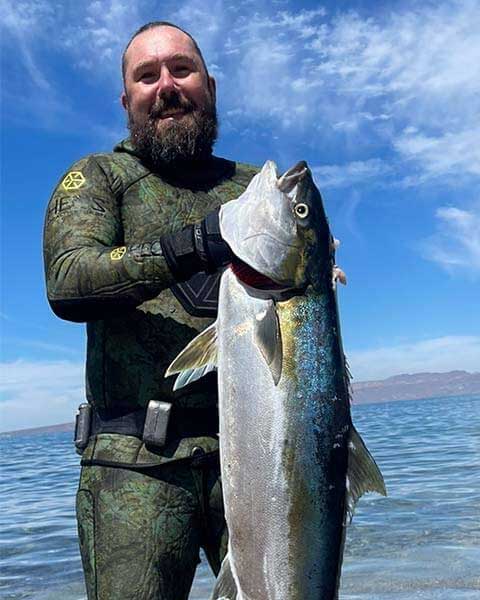 Roosterfish:
If there is one thing the East cape of Baja is famous for aside Marlin and Wahoo, it's the Rooster fish. While the echo chambers of social media would have you believe this is an inedible fish, the locals laugh and continue to make delicious traditional dishes like Machaca from them.
Like many of the current spearfishing world records, Baja boasts the Rooster at 76.3lbs and we've seen many around this weight. They are known as a strong fighting fish and live up to formidable reputation proudly.
They are here in their masses and can easily be targeted with local knowledge, which you'll benefit from with our spearfishing charters.
Amberjacks:
A 50lb+ amberjack is a very realistic ambition to set in Baja. While they are not commonly found while hunting other species like Wahoo, we have spots that hold large shoals of the mature examples.
It's certainly a 'local knowledge' endeavour to find the spots but once there, the game is on. The more technical divers may prefer to freedive down to 20 to 25m and hunt directly; while others may prefer to try chumming them up.
Either way, break out the heavy gear and double up on your floats unless you want to risk losing it all. These fish fight extremely hard and even the small ones will give you a hell of a battle.
Broomtail Grouper:
Another fish making Baja spearfishing famous is the Broomtail grouper with the currently world being taken here at mind-bending 123lbs.
While found on both sides of Baja, the larger lumps of muscle are more frequently found on the Pacific side . Spearfishing Broomtail grouper is a very serious undertaking and most definitely not for the fainthearted or inexperienced.
While we can find them as shallow as 10m, they will undoubtedly run and create the biggest nightmare of a tangled line, in the deepest and most hellishly spot 'grouperly possible'.
Multiple technical dives are required to secure a beast of this nature and it's often a team effort to secure the fish with the actual shot being the easiest part.
Other notable mentions:
Spearfishing Baja has an array of outstanding opportunities that go far beyond the scope of this write-up. Just look the IUSA records list to see how many world records currently stand in Mexico with the fast majority falling in Baja.
The humble Dorado is often seen here at around the 50lb mark; with Needlefish the size of small Wahoo and a whole host of other groupers, snappers and trevallies.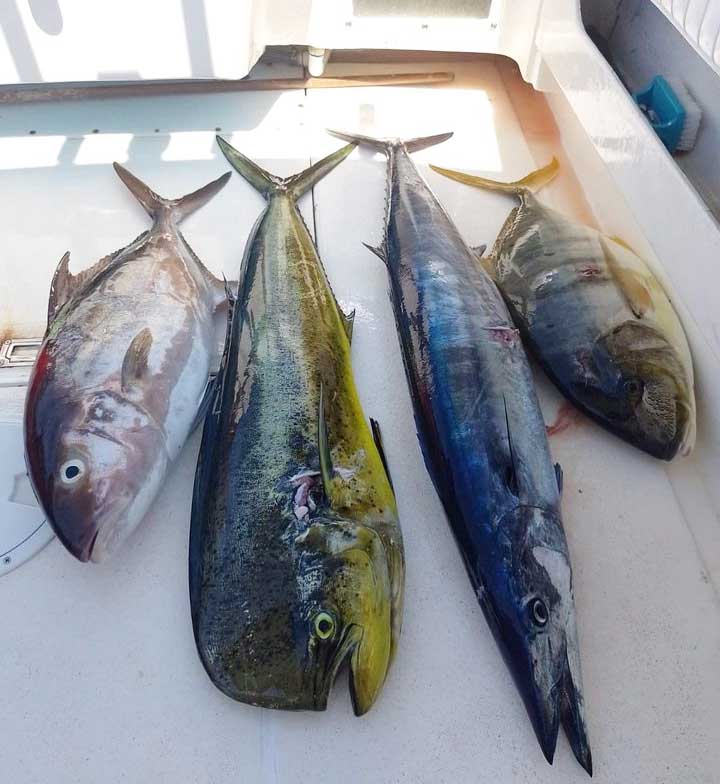 The boat
In the fleet:
21ft sports cruiser with a 225hp
Extra cost:
Sports cruisers of every size and luxury – simple contact with your requirements!
The experience
We cater for all experience levels and tailor holidays accordingly.
Just starting out? No problem – we can start on the reefs and build up your confidence.
Ready to try blue water? Outstanding – we can target species that will give you the full blue water experience while minimising the technical aspects so you can concentrate on enjoying yourself.
Plenty of experience? We can just drop you on the fish and let you do your thing! Just let us know what you want to target, and we'll work with you to make it happen.
Essentially, all our trips are tailored specifically to the ambitions of the dive team – be it putting some Wahoo on the deck or chasing a potential world record. It all starts with a conversation so drop us an email and lets getting planning!
Find out more about accommodation, nearby sights, activities, seasons and language in Los Barriles, Baja here.
Catering for all levels
As above
Your package
$475 half a day unguided
$575 half day guided
$575 full day unguided
$675 full day guided
Get in touch to find out more: hello@spearfishing-charters.com