Waters teaming with spectacular fish
spearfishing at
Cape Verde.
Book one of our spearfishing charters in Cape Verde and you will be blown away by the astonishing concentration of wahoo. The fish are not accustomed to divers here and are therefore considerably less wary. Beneath the teeming wahoo we see abundant yellowfin tuna, 50 Kg fish being the norm, but backed up regularly by 100Kg monsters. Cast your aspirations further into the wild blue and we have a year round presence of travelling Blue Marlin. This is a critical waypoint on their migrations. In the shadow of the Blues we see White Marlin, Sailfish and Spearfish.
Key facts
Price: From £600 or £1,500 per day for live aboard
Price includes: Boat, guide, refreshments, lunch
Spearfishing awesomeness: 5 star
Fixed dates or open: Open
Season: All year, see below for species
Group size: 4 hunters max, other guests welcome on the boat
Boats: Arc Hammer
Guide and instructor available: Yes, at no extra cost
Targets: Bill fish, yellow fin tuna, giant AJs and endless wahoo
Family friendly: Yes
Why go here?
Here we see a true land of monsters. Think of Ascension Island then multiply it by the many islands within our reach. There are the same wild volcanic landscapes, the same brutal drop offs and the same mesmerising deep sapphire waters.
Your hunting here is full spectrum. Inshore you have volcanic caves, ledges and sand patches. These are home to groupers, amberjacks up to 70Kg and a wild diversity of reef fish. Lobsters and octopus can also be caught in many spots. You will be surprised how many shipwrecks are in easy reach. These hold the usual wreck species you would expect. Slightly further out, you have drop offs rapid down to 50m+. Here you will find mighty amberjacks and the occasional wahoo. Further out still we enter the true bluewater domain. Here you need to cover some distance to find those jewels in the sea; the massive sea mounts, some of which rise 1000m from the seabed below. Here is your very best chance to encounter the pinnacle of pelagics… abundant wahoo and tuna, and always with the chance of Marlin and Sailfish. You may wish to hunt many of these species or you may wish to concentrate on just one, such as Marlin. The choice is yours and we will help you build a mission plan on the build up to your trip.
The boat
Astonishing waters like this call for an uncommon spearfishing boat. The usual RIBs cannot hope to safely fish the awe inspiring Sea Mounts or the vast offshore banks. For this reason we have selected an uncommon boat for your needs… To give you the best experience we limit the party to 4 divers on board. We can carry some guests as well. Should your party be larger than 4 divers then why not split the trip so that each group spends the same number of days with us, and when the other team is on the boat, enjoy inshore spearfishing, trekking, scuba diving, paintball, beach parties and local culture.
We organise regular beach parties with the local dive school, where you can enjoy a BBQ and a few beers on virgin beaches and desolate, uninhabited islands. We have a strong environmentalist drive to conserve our ecosystem here so we leave nothing behind but footprints.
The boat 'Arc Hammer' has enough range to reach the Canary Islands so the far distant Cape Verde Seamounts are no issue. We have installed a diving platform to make recovery simple. We have A/C, Sound System, extensive supplies and spare spearfishing parts plus a few surprises.
The experience
Diving us you will find a totally new spearfishing experience. It is simple. We are fanatics. We hunt hard, and if it is your thing, we can party hard too! Choosing to overnight at many of the Islands gives you the option to go ashore to explore and adventure… or to stay on board, sleep on board, and drop hooks for Broadbill Swordfish, Diablo Rojo, and Tiger Sharks. We aim to make this the most adventurous trip of your spearfishing life to date. We base our package on our own experiences.
For those who do not wish to spear billfish we offer you the chance to jump in and photograph them! Why not get the photo of a lifetime with your best camera? There are charging points on board, and internet wifi can be available depending on the trip profile.
Catering for all levels
If you are a raw beginner, please let us know! With our spearfishing charters in Cape Verde, we can provide the tuition that will make you proficient in a few days, expert in a few trips, and a master in a few more. On hand we have world record holding spear fishermen absolutely dedicated to making your dreams come true. For a beginner we can really offer you 1-1 coaching and tuition in the most demanding environments. Think a beginner can't land a monster fish? Book 5 days with us and think again! Here amongst the monsters we will guide and safeguard you as you work towards your dreams.
If you are a hardened veteran then let's talk about what you really want to achieve. We think big here, and that means pretty much anything. We broke the limits as spears ourselves so we want to discuss your dreams and make it happen. We will consider any quest carefully and if it is possible to make it happen we will put it in action, however difficult. Name your quarry, however difficult, and we can give you a proposal, including mighty species such as the Marlin and… the never yet landed swordfish. As any expert knows, the more difficult the quarry, the longer you need to hunt it and the greater the challenge, both mental and physical.
Your safety is paramount to us so if an expert has a challenging goal, we will need to satisfy ourselves that you and your equipment are ready for what is proposed, and if so, you will have an elite spearo as your supporting wing man.
Your package
Back to the general territory of most divers, we can put you in amongst abundant Wahoo, Tuna, and Amberjacks. You want groupers? We have plenty. You want pelagics? We have plenty. You want true adventure? Come to Cape Verde and let us exceed your expectations.
Our proposal here is to give you a truly bespoke package. Why not troll for Marlin between diving spots? Why not drop a hook at night for Swordfish and Shark? Night diving here is not something we would advise without without very specialised kit. Sharks here are generally not problematic as they are very well fed! They tend to be absent in the day, but active at night. Certainly we have had no aggressive contacts despite occasional meetings during the day. Where there are fish, there are sharks, without exception but will fully brief you depending on your dive spot. My own hunting has yielded rare meetings with Bulls, Makos, Tigers, Hammerheads and reef sharks. None of these sharks were even slightly aggressive, as there is so much food for them!
If you are looking for an unforgettable experience, book our live aboard option for a week and see all the islands and sea mounts. On board we can cook your catch for you that same evening. We lived the dream as spearos ourselves and now for the first time we want to offer you that same dream from our new boat.
You can fly direct to us from Lisbon to Sao Vicente. Accommodation is inexpensive if you travel with family or don't want to take us up on the live aboard option. We have plenty of activities to offer you off the boat including trekking, Scuba Diving, Island Tours and Paintball. There are beautiful white sand beaches and of course we can party like true spearos if you like! The season here is all year round. Here is an indication of when you may wish to come. We are very fortunate here in that we can hunt plentiful wahoo all year round.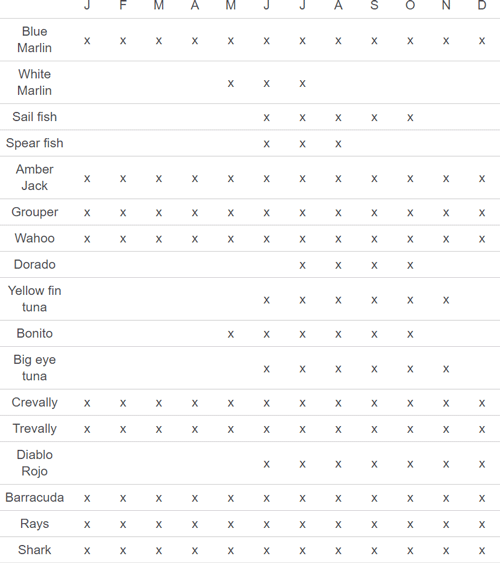 There is no 'down season' here and no wrong time to come. Get in touch with us and we will make the ultimate underwater hunting and adventure holiday for you. You can book us for just one day or for as long as you like. The more information you give us, the better the experience we can give you.
One other unique aspect of Cape Verde spearfishing is that we are a fully equipped big game fishing boat. For no extra charge you can have some fun fishing in very deep water or trolling for Marlin or fishing in the inky black night time water for monstrous species you would not wish to meet.
Get in touch to find out more: hello@spearfishing-charters.com