What to do in
Los Barriles, Baja
Accommodation, nearby sights, activities, seasons and language in Los Barriles, Baja
While we offer spearfishing charters throughout the whole of Baja, the HQ is placed firmly in the sleepy beach town of Los Barriles. This is a far cry from the crowds and party culture of Cabo San Lucas – make no mistake, you'll be swapping the cheap shots and cocktail buckets for empty beaches and serenity. But this isn't a dessert island – far from it.
Los Barriles, while small, has about 90 restaurants with everything from tacos to sushi to Italian. One thing's for sure, you'll never be short of places to eat here. It's also very well developed for high-speed Internet access, and both excellent medical care and banking are easily within arm's reach.
The fishing fleet here is significant with many big game charter boats available for hire. However, Los Barriles still manages to find a way to cling on to that beach town feel, which is just one of the reasons it' so special.
While the majority of the residents here are American and Canadian, it has still not lost touch with its Mexican roots.
Los Barriles accommodation:
There's a couple of big hotels ranging in price and standard. Our favourite place is 'Spa Buena Vista hotel'. It's the cheaper option of the two with a pool and outside bar. While it's the older of the two, it offers some excellent dining options. Taco Tuesdays is as cheap as it is delicious, Thursdays offer a range including an incredible baked potato buried under a mound of brisket and shrimp; and Sundays concludes the week with a meal on the beach. This is an outstanding buffet including a hog roast!
The second hotel 'Palmas' is closer to the main town, newer and carries a higher price tag. It also has pools and a fantastic restaurant. Both options are great so let your budget and luxury gauge dictate your choice.
Aside from hotels there are masses of Air B&Bs and private rentals. The best way to find these options is to post up on some of the local Facebook pages. You will undoubtedly be inundated with options from cheap and cheerfully to luxurious beach fronts. Prices vary to match every budget!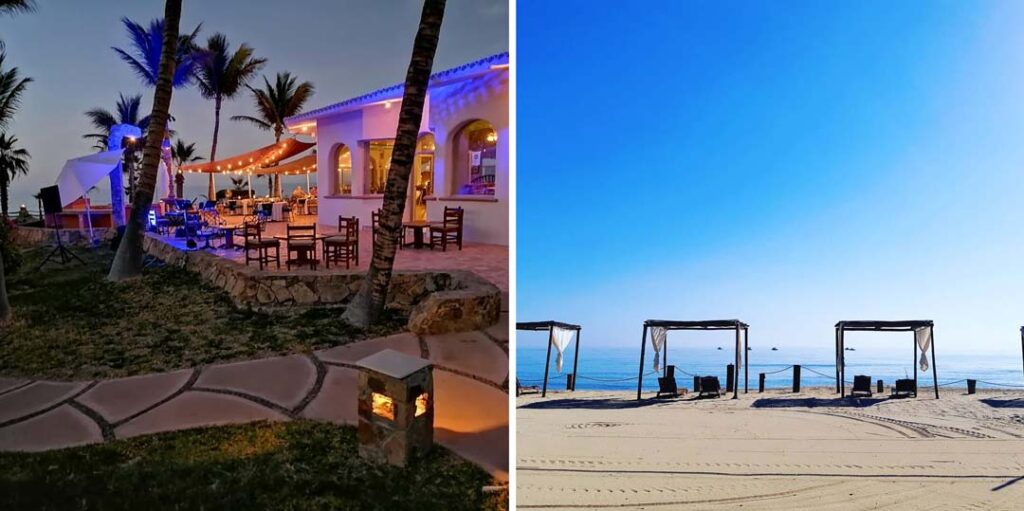 Images credit: buenavistaresortmx
What other parts of Baja are close and should be explored?
Los Barriles is about 90 minutes away from Los Cabos, two hours away from the La Paz and two hours away from Tados Santos. That makes it the perfect place to base yourself if you want to explore more of Baja's stunning sights.
About 25 minutes drive away you also have access to the marine park Cabo Pulmo where you will find many operators offering scuba diving and whale watching at reasonable prices. Most visitors here will hire a quad, side-by-side, or a fully equipped dune buggy to explore this beautiful coastline and the stunning mountain ranges. Empty beaches and beautiful homes surrounded by palm trees make Los Barriles very hard not to fall in love with.
Just out of town in San Antonio you can find a large natural reservoir with a stunning look out onto one of the neighbouring mountains. Nearby is a decommissioned gold mine offering insightful tours with the famous bakery next door run by a Michelin star chef.
Just next door to Los Barriles is a small town called Spa Buena Vista. This place gets its name from the hot springs which emerged throughout the town, most prevalent on the beach. People often go for a paddle and dig their feet into the sand to feel the hot therapeutic springs emerging into the ocean.
Baja Activities around Los Barriles:
If you enjoy snorkelling, the coastline here has many undisturbed reefs showcasing an immense range of biodiversity.
Hiking and mountain biking are popular here. With a wide range of conquerable mountains and well trodden paths, there are many beautiful areas to explore.
During winter this is a prime location for kiteboarding and other wind-based sports. During summer, many people enjoy the calm oceans on paddle boards and kayaks which are easily rentable from the beach. While the services are widely offered, you never get the feeling of over-commercialism and there are no vendors on the beach pushing trinkets which is a welcome relief.
Horse riding on the beach during sundown is an absolute must. There are several local ranches offering different experiences from swimming with your horse in the ocean, along the beach or up the lessor trodden trails up the local mountains. You will find something for all levels and it is certainly something not to be missed.
Shore fishing is also popular amongst the locals and tourists alike. The fish go on the bite most heavily for an hour either side of sun up and sunset. This is one of the few places where you can catch the Dorado right from the beach, as well as rooster fish which can grow to 100lbs. If you need any equipment while you're here then the East Cape Tackle Shop stocks an excellent range of fishing equipment and offers expert local knowledge.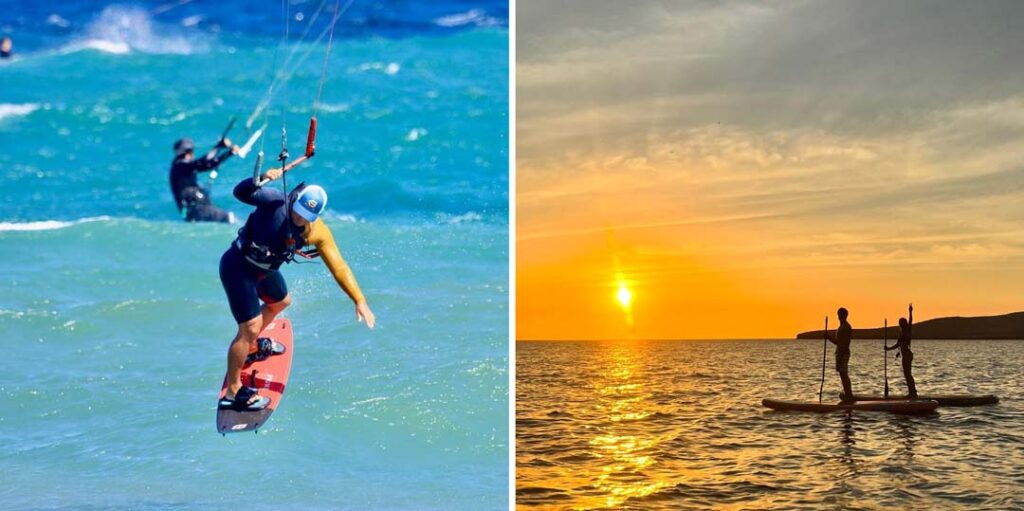 Image credits: left kiteboardingbaja_school, right mousa_paddleboards
Baja seasons:
Choosing the right season for you to visit is critical. The summers offer calm oceans perfect for fishing and diving, but the heat can be relentless, making other outdoor activities a challenge. In contrast the winters are still warm to hot but the trade winds kick in making diving difficult for most of the time. Yet that strong wind from the east offers a welcomed AC-like cooling and relief from the heat.
The only consideration is towards hurricanes which can occur during the height of summer. Fuelled by the hot waters of the Sea of Cortez, September and August tend to be the prime months if and when they occur. While rare it's certainly something to bear in mind.
Language:
While English is spoken in the higher end establishments, Spanish is very much the common language as you expect from a less mainstream destination. However, a smart phone and some creative finger pointing will normally be enough to get you by, although the local populous appreciate any attempt at muddling through with some basic Spanish.
In summary this is a perfect corner of the world to bring the entire family. There's plenty of activities for the kids and adults alike accompanied by an endless array of eateries to keep you entertained for several trips.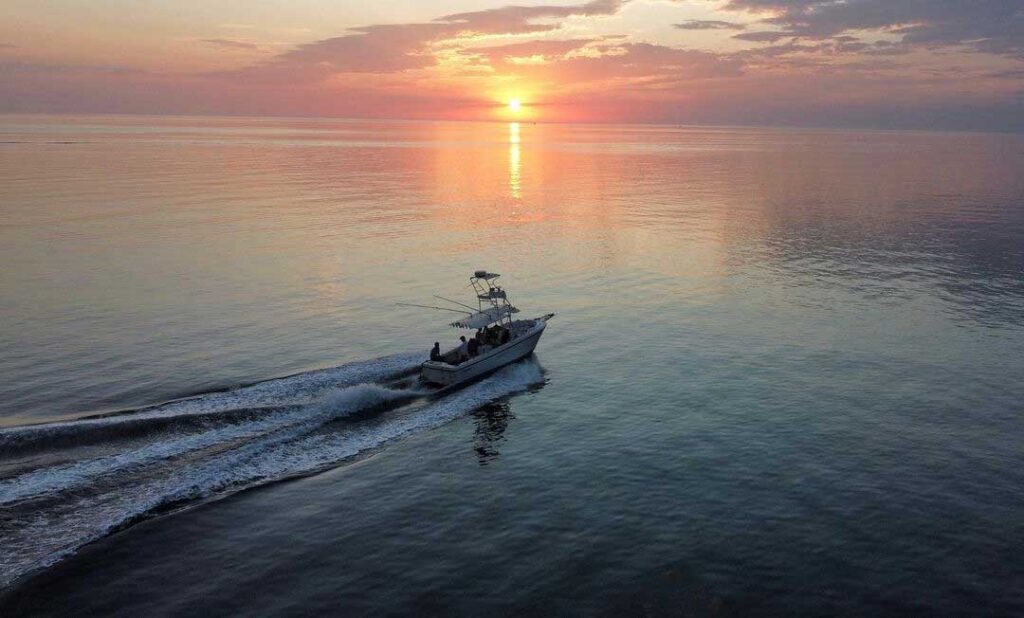 Get in touch to find out more: hello@spearfishing-charters.com